New Franken News
NEW FRANKEN the show debuts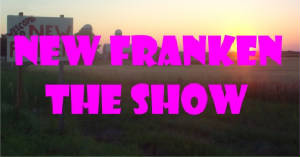 Without a doubt the biggest news of the millenium... your favorite boys in the world have released their own television show. "New Franken" is a sitcom based on life in New Franken if the guys lived in a 90's sitcom. Check out the show for yourself here...

Beloved Ally of New Franken Dies at 19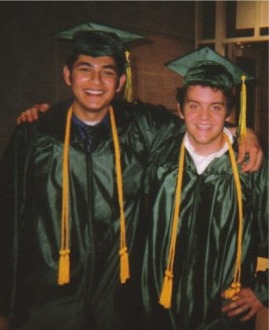 A loving tribute to Andrew Parsons, A eulogy by The Germajo:

Today marks the final day in the life of a beloved friend, brother and son. Andrew, age 19, finally succumbed to cancer of the brain. He was initially diagnosed with a malignant tumor in the summer of 2005. Up until then the tumor was believed to have been small and benign. Due to the negligence of intervention of friends and family, the tumor began to metastasize and grew cancerous and started to influence his behaviors negatively. He began to show extremely early and exaggerated signs of Alzheimer's Syndrome, forgetting friends and family. He later grew into a paranoiac dementia, becoming more dangerously and illogically attached to his growth. Several attempts at liberating him from the growth, even simply remedies to the symptoms were in vain. The patient was unresponsive to all treatments, including efforts at shock therapy. Previous signs of the tumor were shown as early as the fall of 2004. The his final months were left in doubt as to his condition. Near the end, all signs of coherency were lost. His funeral date is undetermined. May we always remember our good friend as he was before his disease took over. He will always be a part of him in all of us. In loving memory...A.W.P. - Mike B.

A beautiful eulogy written by a true friend, for those of you who don't understand the metaphor of a cancerous brain tumor I will spell it out for you hear. Andrew has supposedly become engaged and has become a completely different person. Anyone who knew him would no longer recognize him, trust me. As far as the loss of Andrew to New Franken, it is obviously devastating to us all. Though recent contact with Andrew had been broken and the possibility of Andrew's death was forseen by the combined leaders of New Franken and the Germajo Nation, these events looking back seem almost unstoppable. In January of 2006 New Franken put together a strike force team to kidnap Andrew and release him from the trecherous, cold grip of his new fiancee. But she was there and the team could not overcome her extreme powers of control over Andrew, it was then that the team was completely at a loss as for what to do and gave up. They soon returned and with the help of Andrew's very, very loving parents they showed him old videos of himself and tried to help him recall who he used to be in an attempt to drive out the brainwashing bitch's lies. As is obvious by the eulogy above we failed... we failed not only in the sense that we lost, but we also failed Andrew as a friend. If one of us had been in this situation we would expect him to do all he could to save us. And we have done this for him, and similar to the words of a recent episode of South Park... We shouldn't hate Andrew for leaving us, we should hate that stupid little bitch for scrambling his brains. Rest in Peace Andrew from everyone in New Franken, you will be sorely missed, and sorry we let you throw your life away. And though I don't like to speak for other people but these two are more sorry and more hurt than any of the rest of us can imagine.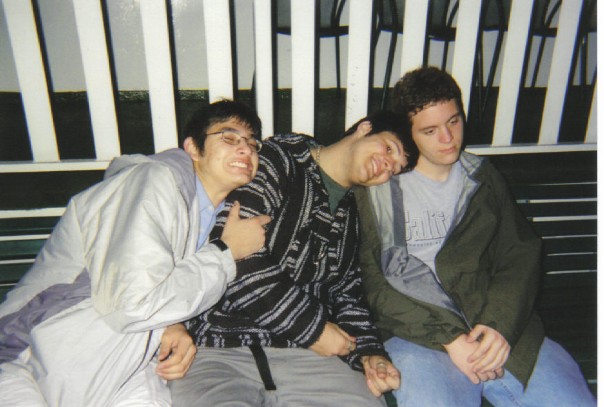 Area Youth Underage Drinking Problem Worse Than Once Thought:

New Franken Investigators have recently been looking into the underage drinking problem in NF and around the United States, following one particular youth, one Jordan. Following Jordan to parties where he consumed enough alcohol to kill your average lumberjack on a nightly basis investigators could only watch in horror as to not blow their cover. They managed to get this collection of snapshots of Jordan drunk and picking up women. Jordan's parents now fear him dead as they still have not heard of him since the last article was written. 2/26/06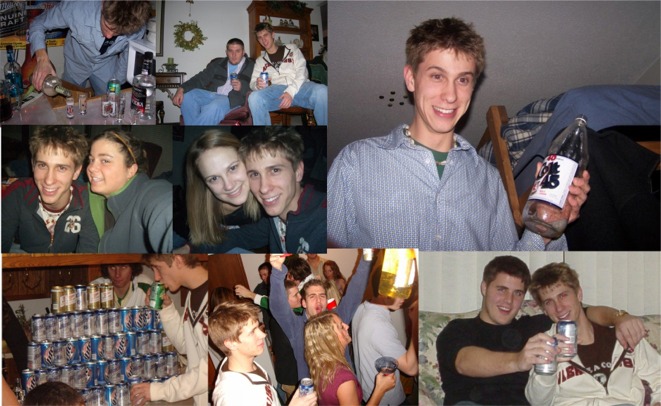 Corey named one of the sexiest men in America
While young men like Jordan throw away their lives with alcohol other young men of New Franken are being recognized nationwide. In the recently released December issue of Esquire magazine Corey was named number 23 in Esquire's list if the 25 sexiest men in America. The issue is on newstands across America now and features a short biography of a Corey. New Franken is honored to be home to one of the sexiest men in American, who is also currently a bachelor. When Corey was reached for comment he said, "I was really surprised, someone actually told me and I didn't believe them, they had to show me the magazine. But when I found out it was a great honor, it won't change anything for me."
2005 New Franken Awards are listed!
The 2005 Awards list is out, this list is of people and accomplishments that the leaders in New Franken have seen fit to give out to those who help the New Franken cause. Congratulations!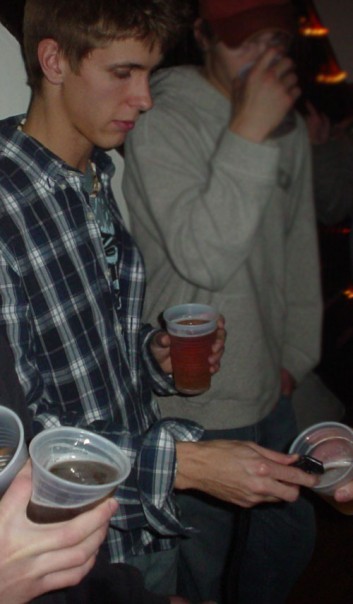 New Franken youth lost to ravages of alcohol
Jordan, once a quiet young entrepenuer of New Franken has given up his successful webdesign business and moved out of New Franken to find quote "a better party scene." Jordan has long been known for his love of the ladies and his occasional overindulgence in pleasures of the world, but lately his abbuse of alcohol has concerned his parents and other New Frankeners. "We would have an intervention but we haven't been able to contact him in weeks, we're worried he's lying in a gutter somewhere," commented Jordan's parents through tearful eyes. The last time anyone in New Franken had heard from Jordan was a short phone conversation where the 19 year old Jordan said to his father "I don't care if I'm under age I'm a (explative) adult (explative) and I don't have to listen to anything you say." Jordan if you are out there, put down that beer and please for the love of god come home.
Bellevue war finally at an end
New Franken officials now say they suspected the war to be coming to a close after the return of General Mike just eight days prior to the ending of the war. Steve commented: "I mean of course they were going to surrender, there is no way they would have just returned a military mastermind like Mike and not expected a bitter defeat with revenge fresh on his mind. Right now we are just trying to get all our troops home and safe so they can get back to normal life."
General Mike returns home safely
General Mike has been returned safely to New Franken recently with no idea of where he has been for the past few months. He only knows he was locked in a dark room for "such a long time" he "thought he would lose his mind." The only thing he could compare it to was the Edgar Allen Poe short story The Pit and the Pendulum. General Mike had no further comment and wished to see his family and forget the entire ordeal as soon as possible, though he believes he was drugged for much of the time, since it felt to be only a few weeks to him. General Mike will need some time to recover and plans to come back to work sometime in early 2006 after some much needed rest.
Many believe Mike was returned by the weakening Bellevue army who saw an obvious defeat and knew returning General Mike would lead to less Bellevuians being killed after the war. 12/02/05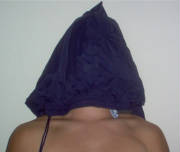 Mike's dissapearance is a KIDNAPPING
Today New Franken officials discovered a letter today from anonymous kidnappers. Included in the letter was a larger version of the photo seen here, in the original Mike is shown totally naked with a copy of that days New York Times covering his private parts. The kindnapping does not appear to be related to the current war with Bellevue and thus far the kidnappers have not yet named a ransom.
General Mike has dissapeared!
Yes, reports were confirmed on September 4th 2005, General Mike has mysteriously vanished without a trace to be found. Mike has vanished with no personal possessions to speak of and without any form of money. His car sits lonely in its spot completely untouched and no show of a struggle can be found anywhere where Mike could have recently been.
THE NEW FRANKEN SIGN IS STOLEN!
Yes, sometime in the morning hours of August 5th the beloved sign that welcomed thousands on their drive through New Franken mysteriously vanished. Suicide rates have tripled since the sign was stolen, many people felt the sign was the only thing that brought happiness to their mundane lives. Noone has come forward to take responsibility, even Bellevue denies taking the sign. If anyone has information on the whereabouts of the sign they are urged to talk to steve or mike right away. When reached for comment Mike had only this to say, "It absolutely baffles me why someone would take the sign because it offended noone. It was truly one of the beauties of New Franken."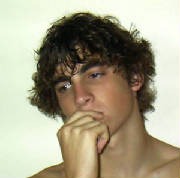 Paul takes leave from the NF Council
On July 4th, 2005 Paul was allowed to take an honorable leave of absence from the New Franken council. The leave will be for an undertermined amount of time and could be for good. The rest of the council agreed to the leave and have openly stated that they can and will not replace Paul. When reached for comment Steve said, "it's sad to see Paul go, he was a great patriot and one of the orginal NFers, but I think we all saw this coming." When asked for the reason for Paul's leave the council released this statement, "Paul just needs some time to pursue some personal things and go out and explore the world and himself, he will always be welcome back into NF and it's government if he sees fit to return. Paul was one of the original patriots of NF and he will be sorely missed with the war, but NF has needed someone like Paul to go out into the world and spread to word of New Franken." So from all true NFers: Paul if you're reading this take her easy (and if she's easy take her twice).
RAVERS INVADE NF
New Franken citizens were kept awake late on June 26th due to a loud pounding noise in the distance mixed in with occasional shouts. Confuses citizens went one by one to investigate the strange noises and this is how the second New Franken rave grew to tremendous proportions. The Ravers came quickly invading Steve's Garage and raved on for hours, the atmosphere was simply electric. One raver commented "I couldn't control myself, the music and lights just invaded my head and pretty soon I was raving with them, it was the most amazing night of my life." Then in a flash the blinking lights, fog, and intoxicating music was gone, the ravers were gone as fast as they had come.
New Frankeners of all ages enlist to fight Bellevue
New Frankeners spanning all ages are volunteering to join the fight against Bellevue, from 2 to 80 they are willing to do anything they can to help win the war. The elderly are putting their efforts in by rejoining the work force to put out armor and weapons for the troops and everyone who is able is enlisting. Here are two young NFers of 4 and 5 getting ready to do what they can. New Franken would never send such young boys into battle, but they can provide a valuable service on the invasion ships by bringing them back to NF after dropping off troops, leaving more able bodied soldiers to fight. 6/30/05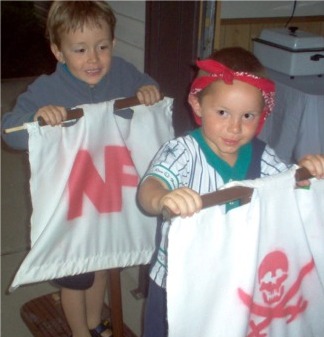 Two young troops ready for battle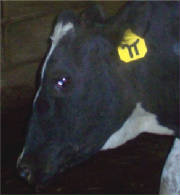 NF Farmers run out of numbers
On July 29th, 2005 New Franken's farmers ran out of whole and rational numbers for naming their cows and other livestock. The problem looked like a tremendous one. The confused farmers couldn't use the numbers of previous cows without overlapping their current records, so they turned to the council. Steve solved the problem by suggesting the farmers use irrational numbers. After a few days of explaining the concept to the farmers they understood and the first NF cow was numbered an irrational number. This cow is now known as PI,
read more about PI here
. For now a crisis has be averted. 6/30/05
New Franken continues to grow
As developers move farther east of Green Bay less and less farmland lies between the New Franken and Green Bay borders. Some developers are even beginning to put up houses in downtown New Franken. The council has openly declared their displeasure with the new development. As more houses are built interest will grow in developers and the city of Green Bay, which is always looking to expand its borders. The council worries that they will not be brought into the process as Green Bay will most certainly one day engulf New Franken as it did Preble and other former farming areas. The only way to stop this from occuring would be for New Franken to reach a village status which would be impossible with its current unincorporated status. 6/18/05

The "new" New Franken development
The NF West enters the war as attacks begin.
The NF West has officially released a statement saying that they will join the Alliance started by the NF East and the Germajo nation to wage war on Bellevue. See the Warfront news coverage to learn how the war is getting along.
Discussions begin for NF West to enter the war.
Thus far it is unconfirmed that the West will be joining the war with Bellevue, but leaders from both the East and the West have been meeting and sources close to Ben of the West say that he is willing to pledge his power to supporting the war. So far Ben has offered everything imaginable including soldiers, weapons, funds, and eeven his ties to Denmark which would be a powerful force for taking some of the burden of NF troops on the southern front. 6/01/05
MIKE MAKES TRIUMPHANT RETURN TO NF
After being in Milwaukee for nearly a year Mike has made his triumphant return to NF. Festivities included a 100 man gazoo band playing "For he's a jolly good fellow," as well as the biggest parade New Franken has seen. Most NFers are especially proud to see Mike has returned home just in time to lead the War against the states of Bellevue. At the end of the parade Steve and the other council members bestowed upon Mike the honor of being named a five-star general to the New Franken Army. Mike will now be in full charge of the New Franken attack against Bellevue answering only to commander and chief Steve. 5/23/05
Mike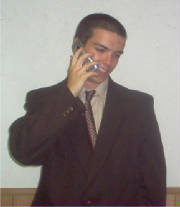 WAR DECLARED ON BELLEVUE!!! Yes, it has been confirmed unrestricted war against the states of Bellevue has been declared. The leaders of New Franken have promised a quick and decisive blow to the heart of Bellevue that should tumble under it's poor leadership. Many are predicting a war similar to the one raged against Green Bay in 2002. See the NF Wars link for more on the war.
Bellevue has made a website to slander the greatest place in the universe, New Franken. The leaders of New Franken say this blasphemy will not be stood for and New Franken has declared war on Bellevue. It is believed that this war will be much more brutal and difficult than the war on the Middle East because of the loss of General Mike and the distnace barrier.
The New Franken Website has added a new link called NF Tips, tips on how to be kick ass like New Frankeners. Check it out
The General States of New Franken have issued a warning to the Bellevue, threats against New Franken will not be tolerated. New Franken has and will continue to maintain military forces and build technology to bring down Bellevue, New Franken has released pictures of their newest long range weapon.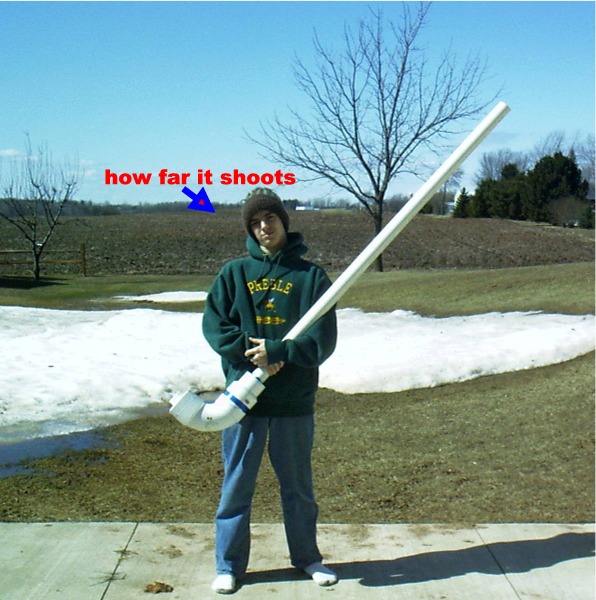 The Buffalo will be gone from New Franken Forver!!! This famous truck that has been with New Franken through the best and worst of times, is now to be sold on to better pastures. But hope still remains, rumors are circulating that Brian Baenen may be purchasing the truck, and keeping it a New Franken tradition.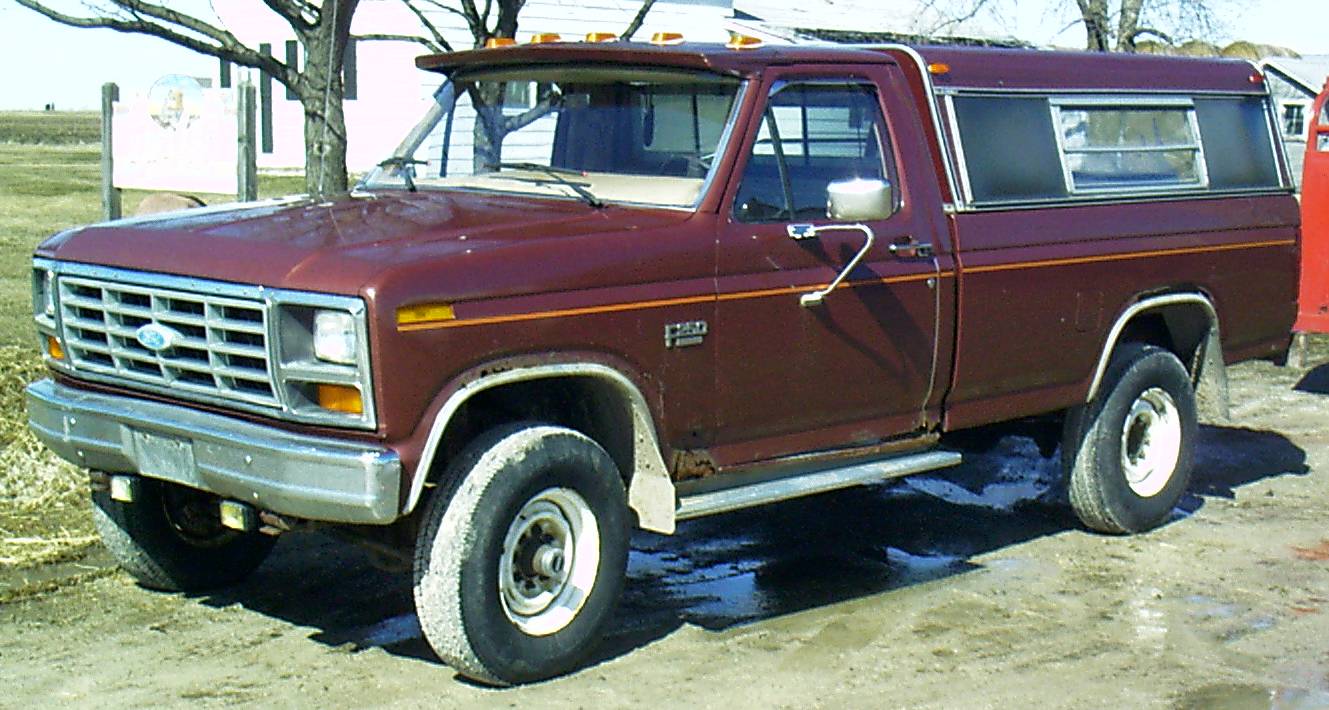 NFCW
The NFCW is gone for good. Steve Corsten said on a councle interview, "It was just a great phase that will live within each of us forever". We also talked to Mike about the subject and he said, "Well it could come back for a reunion show but don't get your hopes up unless you have a $100 in hand and you bring The Buff back to life". The show had its good times, bad times, and even painful times and we will all miss it. summer 03'
Snowterboards: Now not only can Steve and Mike make you the best scooterboard ever we can now take your crapy old (or new) snowboard and make it in your very own Snowterboard. Yes the Winter weather is coming soon for those of us in the north (thats excluding our friend Kelly from Hawaii) so get yourself a Snowterboard this winter. 02'