The Secrets revealed of some of New Franken's Greatest Mysteries
Mike with the NF Troll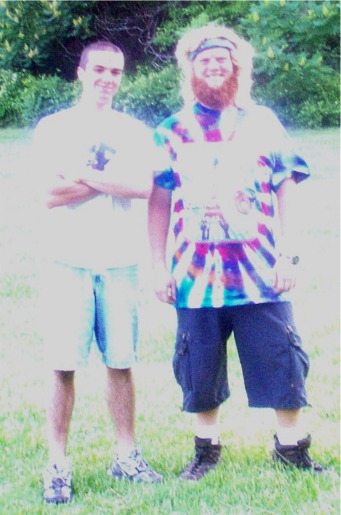 Sorry about the poor picture (he agreed to take only one after the flash scared him)
The NF Troll
The NF Troll was recently enlisted by the New Franken army to help guard bridge crossings into New Franken, as a troll he is the obvious choice for this job. His origins, age, and current whereabouts are unknown; all that is known is that he is in New Franken under a bridge somewhere. He makes his home under an undisclosed bridge where he lives in a hole with his wife and collection of heads from people who couldn't answer his riddles for safe passage. The troll has been armed with a series of riddles whose answers are only disclosed to top NF army officials. The only picture of the troll is above, he refuses to take another since he doesn't trust any human technology. The picture was taken just after the treaty signing with General Mike. The troll had to walk many miles to get to NF since he trusts no human transportation, so the NFers cleverly disguised him as a hippie.
The New Franken Witch
This little known secret of NF has recently been destroyed. Off of Hermans Rd. there was always that house back in the woods. Old and falling apart it was always something to catch the gaze of the young NFers. Recently tales have surfaced of the house being haunted by an old witch. Some NFers can remember being told of the evil witch that ate children as they were kids. The leaders of NF had actually been recently looking into the alleged haunting but were stopped before they could actually find anything out when the house and surrounding woods was cut down. The house was burned to the ground and it is assumed that the witch along with it.
The MudPeople
A scary mystery, that shows a more disturbing part of New Franken. Living in the fields of New Franken are the MudPeople, new to New Franken in the last few years, the MudPeople roam the neighborhood underground. Noone is sure if the MudPeople are hostile or not, some of the more fearful believe that they will kidnap children and drag them underground into their elaborate system of tunnels, but so far no disaperances have been reported. Their origins are believed to be linked to the Middle East, It is believed that these were formerly shady characters attracted to the Middle East by it's drugs and loose women. When these mysterious men came they slept in the dumpsters full of dirt and garbage. It is believed that corrupt Middle East officials have been dumping excess radioactive toxic waste in the dumpsters, that chemically bonded the men and this mud, horribly mutating them.
The MudPeople rising from under the ground